Using Sedimentary Lipid Biomarkers to Track Historical Changes to Lake Michigan
A research project funded by the Indiana Water Resources Research Center through the U.S. Geological Survey's 104B annual base grants (section 104 of the Water Resources Research Act of 1984, as amended).
Start Date: 2019-05-31   End Date: 2020-05-30
Total Federal Funds: $15,000   Total Non-Federal Funds: $45,000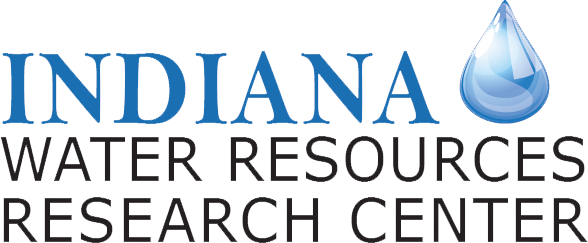 Freshwater aquatic communities of Lake Michigan are faced with a wide array of environmental stressors that are likely to increase in the coming century, including invasive species, nutrient loading, and climate change. The numbers of species, community structure, and range of organisms will be altered as water quality, temperature, clarity, seasonal and annual water availability, and nutrient loading all differ from present conditions. However, significant uncertainty remains in how aquatic communities are impacted by disturbance over longer periods of time and how recovery of these communities progresses. Historical trends reconstructed from sediments can inform our management strategies as we learn of aquatic ecosystem response to disturbance and shifting community dynamics associated with recovery.
This project used organic biomarkers preserved in the sediments of Lake Michigan to reconstruct aquatic communities, water temperature, and hydroclimate helping us better predict the magnitude and extent of ecosystem response to various threats and timing of recovery, and thus better prepare us for future climate and development scenarios in Lake Michigan.
Figure 1. Example aquatic biomarkers of Lake Michigan: (I) C21 n-alkane (aquatic algae), (II) 1-(Ohexose)-3,25-hexacosanediol (Cyanobacteria), (III) loliolide (diatoms), (IV) crenarchaeol (Thaumarchaeota), and (V) dinosterol (dinoflagellates).
Research Objectives
Identify and quantify aquatic community changes and synchronous climate changes (temperature and hydroclimate) preserved in the sediments of Lake Michigan from previously recovered cores.
Estimate potential changes in nutrients from humans or animals by looking at the presence, abundance, and source of fecal contamination in sediments. Data collected for aquatic community variability, fecal contamination, temperature, and hydroclimate were compared to other records, such as lake level changes. These analyses will help determine how environmental and climatic changes in Lake Michigan have affected the aquatic ecosystem for the last 500 years, such as the loss or increase of aquatic communities with changing temperatures, precipitation and soil runoff, and nutrients.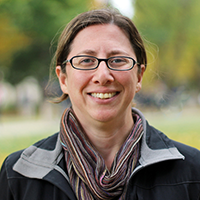 Principal Investigator Dr. Melissa Berke is an Assistant Professor in the Department of Civil and Environmental Engineering and Earth Sciences at the University of Notre Dame.
Major Conclusions & Significance
This project focused analytical efforts on two sediment cores, taken from near Holland and Benton Harbor, Michigan. Both cores had similar sampling intervals between 1960-2008.
Organic geochemical markers including sterols, polycyclic aromatic hydrocarbons (PAHs), n-alkanes, and fatty acids were analyzed in the sediment cores.
PAHs (from combustion of biomass and fuels) increased with depth indicating recent decreased air pollution to Lake Michigan.
Sterol ratios (indicative of human fecal contamination) were more abundant in older samples of the northern (Holland, MI) site suggesting decreased nutrient runoff to Lake Michigan.
Fatty acids and n-alkales, biomarkers for soil bacteria, algae and cyanobacteria, increase over time to present, indicating microbial and aquatic bloom contributions to the lake are increasing through time.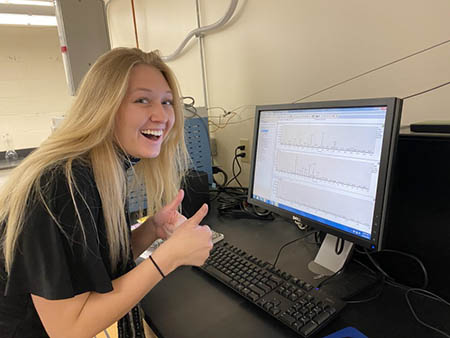 Figure 2. University of Notre Dame Ph.D. student Audrey Taylor using the gas chromatograph to analyze sediment samples.
What Does This Mean For Indiana?
Significant uncertainty remains in how aquatic communities are impacted by disturbance over long time periods and how recovery of these communities progresses in light of more recent policy changes and regulations. Sediment reconstructions are necessary to examine processes operating over longer periods of time and can help constrain ecosystem behavior with disturbances. Our study of the sediments of Lake Michigan from two available sites from the last recent decades shows that recent contributions of some contaminants to the lake appear to be decreasing (such as burning organic material deposited to the sediments and human fecal contamination). However, our work identifies considerable spatial variability of contaminants in recent deposition. This suggests point source contamination or internal water movement may play a large role in determining deposition location or redistribution of aquatic contaminants.
Training The Next Generation
One of the missions of the Indiana Water Resources Research Center, and all Water Centers, is to train the next generation of water scientists. This project successfully funded research for two Ph.D. students within Dr. Berke's lab.